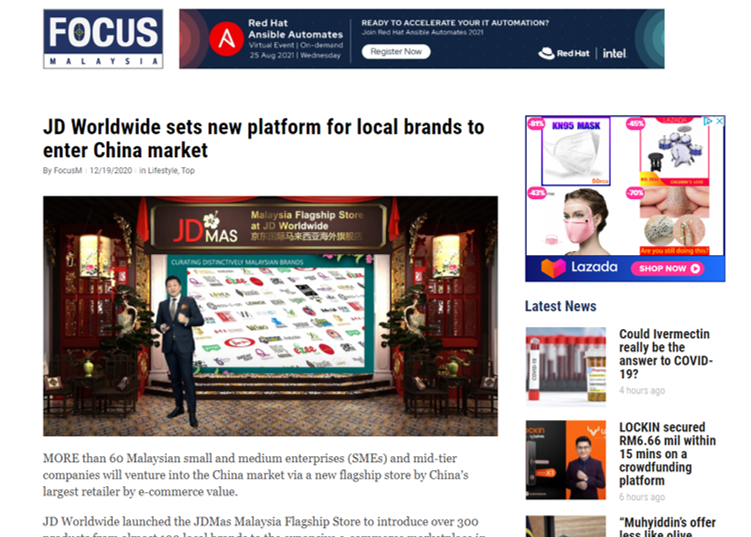 Focus Malaysia (19th December 2020)
Link: https://focusmalaysia.my/jd-worldwide-establishes-another-platform-for-malaysian-brands-to-offer-their-products-in-china/
MORE than 60 Malaysian small and medium enterprises (SMEs) and mid-tier companies will venture into the China market via a new flagship store by China's largest retailer by e-commerce value.
JD Worldwide launched the JDMas Malaysia Flagship Store to introduce over 300 products from almost 100 local brands to the expansive e-commerce marketplace in China, under the JD Worldwide platform.
The platform will include a wide range of products from food and beverages to cosmetics and skincare, as well as fashion and accessories, among many others.
Being China's largest overall retailer, JD.com has a vast product offering and unrivalled nationwide fulfilment network that provide the same and next day deliveries covering 99% of the country.
"The partnership with JDMas will ensure Malaysian brands are able to reach Chinese consumers online and tap on JD Worldwide's full suite of services including, marketing, consumer targeting and big data-driven analytics, logistics and warehousing, and financing", said JD Worldwide general manager Frank Yu via an online stream from JD's headquarters in Beijing.
Meanwhile, the Malaysian Digital Economy Corporation (MDEC) chief operating officer Datuk Ng Wan Peng said: "Cross-border trading is also fast growing as many retailers who recently joined the eCommerce ecosystem are now learning that the marketplace outside of Malaysia is massive. The opening of JDMas will further accelerate the acceptance and embracing of e-Commerce among retailers as it provides a new platform for them to look into." – Dec 19, 2020